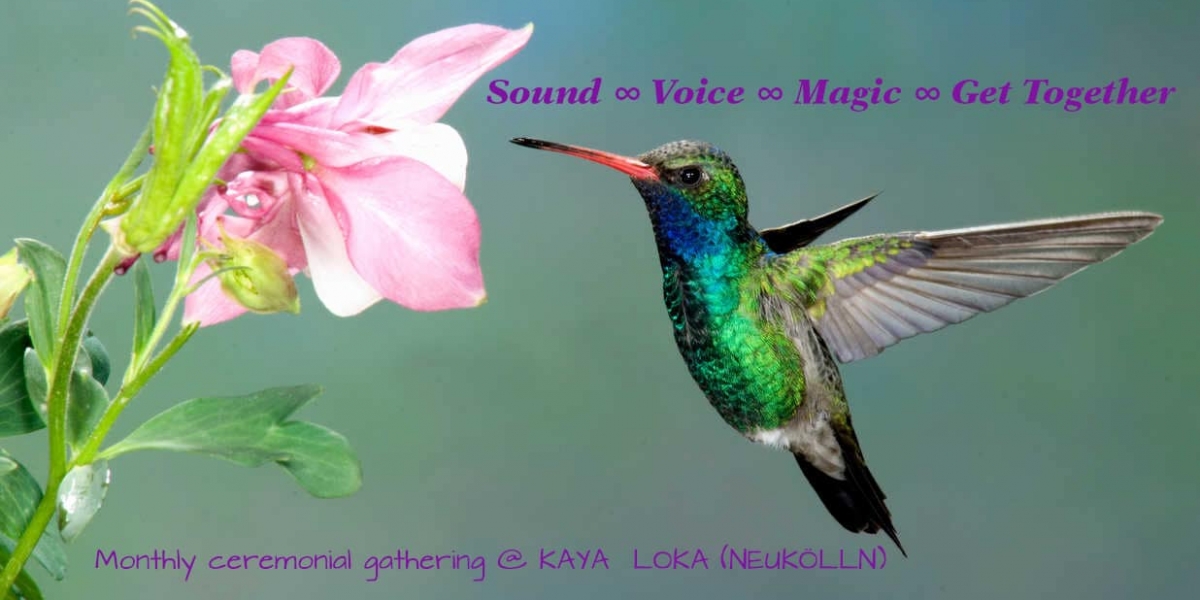 ☆ Monthly ceremonial event to explore and celebrate the power of our voice ☆  
*Ceremonial ∞ family ∞ open space ∞ singing-jamming-prayer-circle ∞ power of the voice ∞ medicine of the circle ∞ sound healing ∞ medicine of togetherness ∞ meditation ∞ co-creation ∞ cosy ∞ cacao ∞ contact*
Dates:  06.01.19 // 22.02.19 // 17.03.19 // 19.04.19 // 18.05.19 //
each 18h – 20h ∞ on 06.01 SPECIAL EDITION WITH CACAO 18h – 21.30
"Within every present moment, you have the power to speak those words that project your Heaven on Earth reality into form. Allowing your Higher Self to guide your speech incrementally aligns you with prosperity consciousness. The voice of your Higher Self will only speak words which generate a continuous flow of abundance, supporting you to live in your full authentic expression."
( Mother Mary from: "The Sophia Code" by Kaia Ra))
::::::::: Next Gathering 6.1.2019 End of the "Rauhnächte" and FIRST NEWMOON OF THE YEAR – POWERFUL MANIFESTATION TIME!!! ∞ Tuning in in what wants to be born thru us ∞ ALIGNMENT AND ORACULAR MAGIC ∞ EMBRACING the NEW YEAR WITH THE HEARTOPENING MEDICINE OF CACAO >>>> ::::
Beloved tribe,
this creation is burning in my heart since few months. It is a direct download supported by the beloved WHITE BUFFALO CALB WOMAN ♥︎ 
The ☆ Sound ∞ Voice ∞ Magic ∞ Get Together ☆ is a ceremonial and cosy space for :
∞ exploring and celebrating the powers of sound and voice through singing, chanting, toning, prayer and invocations ♥︎
∞ learning to use our voice as an instrument for individual and collective healing, blessing, self activation, manifestation & commanding miracles ♥︎
∞ we usually start with a guided meditation and ceremonial opening . Some breath and body work follow to open our bodies and throat chakra. We are singing mantras, medicine songs, circle songs from many cultures and traditions. In between we may send prayers, receive transmissions, or just be silent and present to the magic of the moment. 
∞ it is also a space to relax, soften, enjoy, nourish, connect & cuddle ∞
::: YOU ARE HIGHLY WELCOME TO SHARE YOUR IDEAS AND GIFTS, CAUSE IT´S SO MUCH ALSO ABOUT CREATING A SPACE FOR EVERYBODY TO STEP OUT OF THE INVISIBLE, LET GO OF SHAME AND FEAR AND SHARE YOURSELF WITH THE WORLD ♥︎
♥︎ LET US ELEVATE OURSELVES AND ALL BEINGS CHOOSING INTENTIONS THAT HONOUR ALL LIFE, EARTH, OUR ANCESTORS AND THOSE YET TO COME ∞ REMINDING OURSELVES TO BREATH THE BREATH OF LIFE TOGETHER AS ONE ♥︎
Further informations:
maximal 16 peeps ♡
please register: ▷ info@yogagaya.de
Where: Kaya Loka, 12055 Neukölln
Investition: 11€ -22€ selfestimation (special editions with cacao 22€)
Please bring:
comfy clothes
something to drink
instruments
some heart fueled intentions
personal items to charge on the altar (optional)