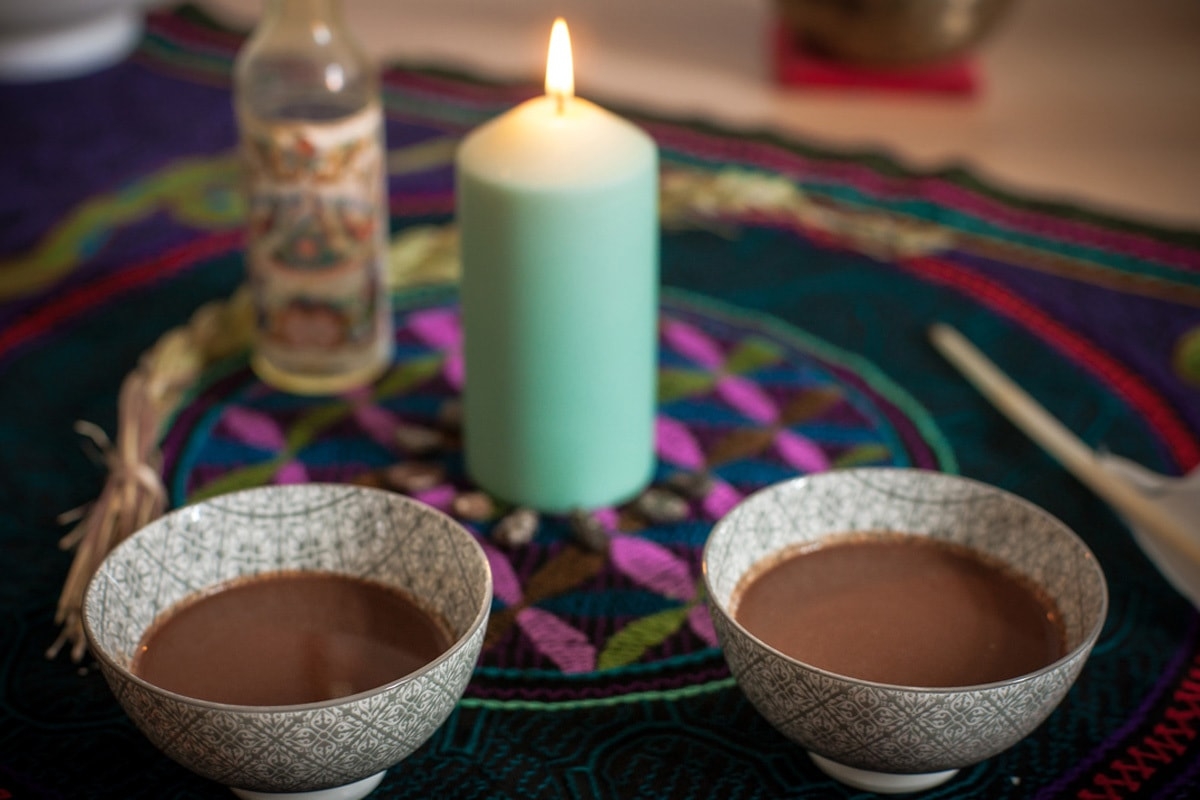 holistic massage session with the spirit of cacao
This 3,5 hour session is your private healing ceremony, in which you are invited to work deeper with a certain issue.  As a heart opening medicine the powerful cacao spirit is guiding you to feel deeper layers and to connect with your soul, whereby healing can occur. 
Together we create a sacred space for connection, healing and transformation.
After we have drank a ceremonial dose of finest organic raw cacao prepared with spices (similar as the Mayans used to drink it) I will guide you through a meditation to clear your energetic layers and to prepare you for your inner journey.
Depending on your needs and topic you bring I will guide you with gentle body and breath work, sound (voice, drums, singing bowls, rattles), alchemistic practice, intuitive shamanic healing and channeld oracular wisdom.
Afterwards you receive a 90min whole body massage which is a harmonious fusion of ayurvedic, hawaiian (lomi lomi) and energetic massage. There will be enough space and time for chill out and gentle integration.
*Cacao (Theobroma cacao = food of the gods) is considered to be a powerful "teacher plant" – a plant which can support us via her spirit to explore the magic of our soul and to expand our consciousness.
Since millenniums cacao is used as a medicinal plant in healing rituals, especially in Central and South America.
In a gentle and loving way the high frequent Cacao Deva (the spirit behind the form) opens our sacred heart portals and enhances the access to our intuition and dimensions beyond our logical mind.
She (cacao is a feminine spirit) is a messenger of an eternal wisdom of unconditional love and unity of all life in creation. She reminds us of who we truly are: powerful, magical, sovereign  and multidimensional beings. 
The cacao spirit facilitates the re-connection with ourselves and with others and supports us to unveil and embody our highest potential.
In a very subtle, yet powerful and sustainable way cacao can support you:  
to release emotional and mental blockades
in connecting with your body, your soul, your higher self, your guides and spirits and the source of all life in creation
to boost your energy level, raise your frequency and improve your mood
in reconnecting with your inner power source and activating it
To receive optimal effects it is recommended:
to fast (food) at least 2-3 hours before the ceremony

 

(at least) 24hrs prior to the ceremony no animal products, no alcohol or other consciousness altering substances, no caffein
to drink a lot of water before and after the ceremony
to set an intention
It is not recommended to consume raw cacao in ceremonial doses in case of heart conditions or if you are taking antidepressants.

 

.

Ceremony length: 3,5 hours

Location: Kaya Loka, 12055 Neukölln

Investition: 177€