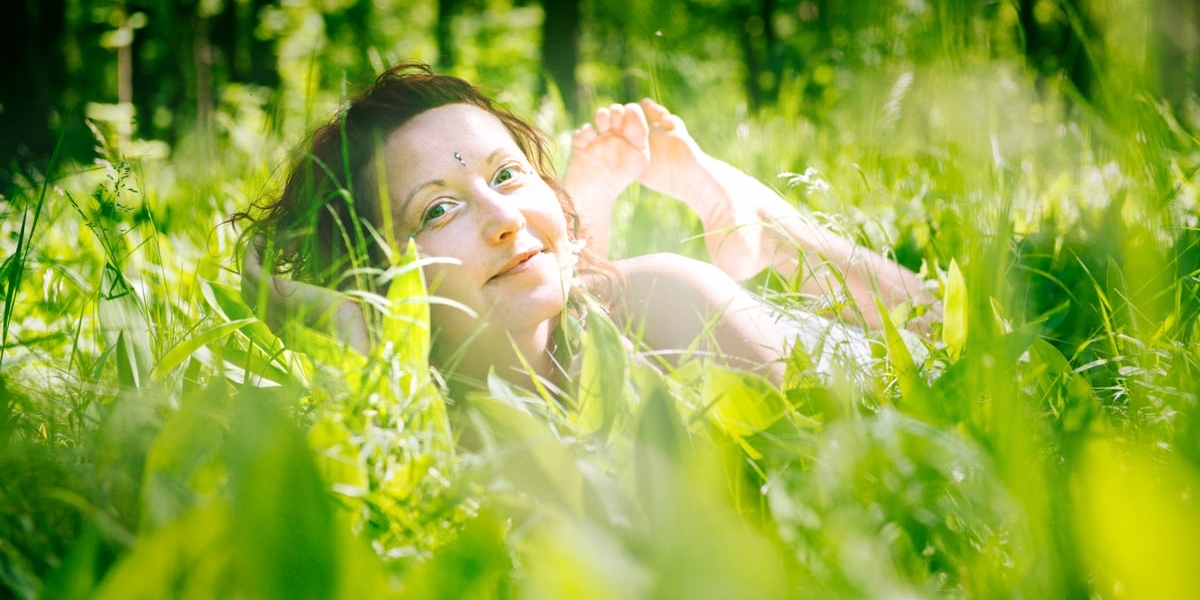 a magical being, a free spirit, a servant of love and truth, a selfmaster in training, an earth priestess and spirit keeper, a joyous soul dedicated to  co-create a New Golden Age of Miracles on earth.
to love…
to support humans in connecting with their precious Self and embodying their highest potential…
life in all its colors…
dancing, singing, playing, laughing, crying…
the sound of the ocean…
the smell of the forest…
nature, magick, mystic, travels, deep intimacy…
yoga, music, rainbows, owls & raw chocolate ♡
Aloha, I am Agaya, a polish born-berlin based embodiment illuminatrix, passionate yogini, womb shamanka, sound healer, ceremonialist, self-mastery coach, mystic & massage priestess (ayurveda & lomi lomi).
On my own journey I have been studying and practicing ancestral, shamanic and yogic/tanric wisdom for more than 15 years now and have sharing it in courses, workshop, private sessions, ceremonies and on festivals since 2012.
Since a profound womb awakening in 2015 I am following my soul´s calling which is to support women in unveiling and following their deepest passions, power and purpose and in manifesting their highest truth and potential.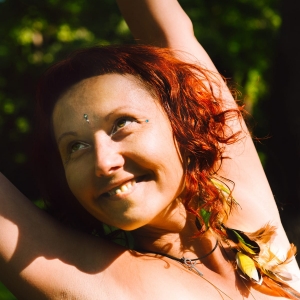 My work is a holistic fusion of a wide spectrum of embodiment practices (yoga, tantra, dance, intuitive movement) with meditation, breathwork, inner alchemy practice, womb wisdom, plantmedicines, sacred rituals and feminine mysteries teachings .
I am absolutely passionate about walking the path of self-mastery (and mystery) and soul embodiment through inner magic and sharing it with others. My purpose is not to teach you, but to ignite the teacher within you. It is also not to heal you, but to ignite the healer within you. It is to remind you that you already are and have everything that you are seeking for  ♡
Believe me dear one, I know how it is to play small. I know how it feels being stucked in confusion, addiction, depression, powerlessness and self doubt. I know how much pain it can cause being totally disconnected from oneself, suppressing and ignoring one´s  truths, needs and desires.
That´s how my life was until I decided to follow my heart unapologetically. Until I decided to take full responsibility for the mess/ disaster I was living in. Until I dared to trust my own wisdom and guidance and to follow my dreams. My life is a living proof that positive transformation is possible if we only are willing to make the steps. I do not believe in wonder, I AM a wonder.
I am here to share with you the best tools and insights I  have learned (and still do!) on my way to self-healing, self empowerment, self love and self mastery and to support you in unveiling and embodying your souvereign, powerfull, passionate and radiant SELF. Because I know YOU ARE A WONDER TOO ♡♡♡
In service of LOVE, POWER & WISDOM ♡
Patricia (Tantric Self Mastery Coaching)
Ich mache gerade ein 6-Monats Tantra Coaching bei Agaya zu den Themen sinnliche Verkörperung und heilige Sexualität.
Wir sind erst mittendrin und ich beobachte bereits eine Transformation an mir, für die ich sonst Jahre gebraucht hätte. Ich fühle mich freier und authentischer in meinem Ausdruck und kann meine Sexualität besser be-greifen und geniessen. 
Vor allem jedoch spüre ich eine Verbindung zu mir selbst und ein Selbstbewusstsein, die ich so noch nicht kannte.
Die Sessions machen eine Riesenfreude, Agaya sprüht vor Lebenskraft und kreativen Einfällen und hat die Gabe, einen urteilsfreien Raum zu schaffen, in dem alle Emotionen sich zeigen können und auch wunderbarerweise meine eigene Kreativität angeregt wird.
Ich freue mich sehr, dass ich dich gefunden habe liebe Agaya und danke dir für dein zauberhaftes Sein und Wirken.
Nadine (Ceremonial Alchemy & Self-mastery – Embodied Spiritual Leadership Certification Training):
Ich habe dieses Jahr bei Agaya die Ausbildung "Zeremonielle Alchemie & Selbstmeisterschaft" gemacht und habe ein wundervolles, transformierendes, stärkendes und lehrreiches Jahr in wahrhaftiger, nachhaltiger Schwesternschaft erleben dürfen.
Die Zeilen hier reichen nicht aus, um zu erzählen, was ich alles erleben durfte in dieser Zeit. Wir hatten wundervolle Zooms, magische Wochenenden und eine unvergessene, traumhafte Woche in Polen vollgepackt mit zahlreichen, tiefgreifenden Zeremonien und Ritualen, Körperarbeit, pleasure time und soviel mehr. Wir wurden mit soviel Hintergrundwissen, Tools und Erkenntnissen gespeist, dass ich immer noch dabei bin alles zu integrieren.
Danke Agaya, für dein authentisches, souveränes Sein, dein offenes Herz und für dein konstantes voll "da-sein". Für all dein Wissen zwischen Himmel und Erde, welches du mit uns teilst. Danke für diese kraftvolle Zeit und dafür, dass der gemeinsame Weg nicht endet, sondern gerade beginnt.
Ich sag nur "Goddess Level"
Diese Ausbildung war das beste Geschenk, welches ich mir selber machen konnte
NAMASTE
Kaja (Ceremonial Alchemy & Self-mastery – Embodied Spiritual Leadership Certification Training):
Meine liebste Agaya,
ich bin unendlich dankbar, dass sich unsere Wege in diesem Leben wieder getroffen haben und wir an unsere ancient Schwesternschaft und tiefgreifende Tempeleinweihungen anknüpfen können.
You walk your talk! Du lebst auf authentische schillernde Weise deine 'Lehre'. Alles, womit du dich beschäftigt hast, gibst du liebevoll weiter.
Ich bin von Herzen dankbar für diese wertvolle gemeinsame Zeit.
Du lebst dein Potential, deine Goddess und dein Pleasure! You are a great Spaceholder, Masterpriestess, conscious Creatrix and true Sister. You gift those around you with empowerment and joy.
Die Ausbildung ist ein Meisterwerk, geeignet für alle, die bereit sind die Neue Erde mitzugestalten.
Mögest du noch viele mit deiner Liebe und deinem Spirit berühren!
Aileen (Ceremonial Alchemy & Self-mastery – Embodied Spiritual Leadership Certification Training):
Liebe Agaya,
ich möchte mich aus den tiefen meines Herzens bedanken für deine Arbeit, dein Wesen und deine wundervolle Stimme, die uns an unsere Göttlichkeit erinnert und uns lehrt, wie wir unsere innere Wahrheit entdecken und leben können.
Deine Ausbildung ist unglaublich bereichernd und nährend auf allen Ebenen – die Tools und praktischen Übungen, deine Teachings, das Coaching, der Sacred Space, den du mit uns zusammen immer wieder neu kreierst. Ich empfinde wohlige Wärme und Freude, wenn ich an unsere tolle Zeit in der Intensiv-Woche denke oder an die unzähligen heilsamen Zeremonien.
Deine feminine Weisheit und dein tiefes Verständnis für innere Alchemie ist überwältigend und ich hätte mir nicht denken können, wie transformierend und erhellend die Ausbildung für mich wird. Ich fühle jedes Wort, was Du sprichst und räsoniere mit allen Inhalten der Ausbildung sehr, so dass ich total viel mitnehmen kann, alles was Du mit uns teilst bezogen auf das Divine Feminine, sisterhood, die Arbeit mit den MeisterInnen, Selbstmeisterschaft usw. – das geht direkt in mein Herz und ich spüre das die innere Arbeit wichtig ist um mein Leben so erfüllt und glücklich zu leben, wie ich es mir erträume. Du inspirierst und motivierst uns als Frauen unsere Power zu entdecken und das macht einfach riesige Freude und unglaublich viel Spaß.