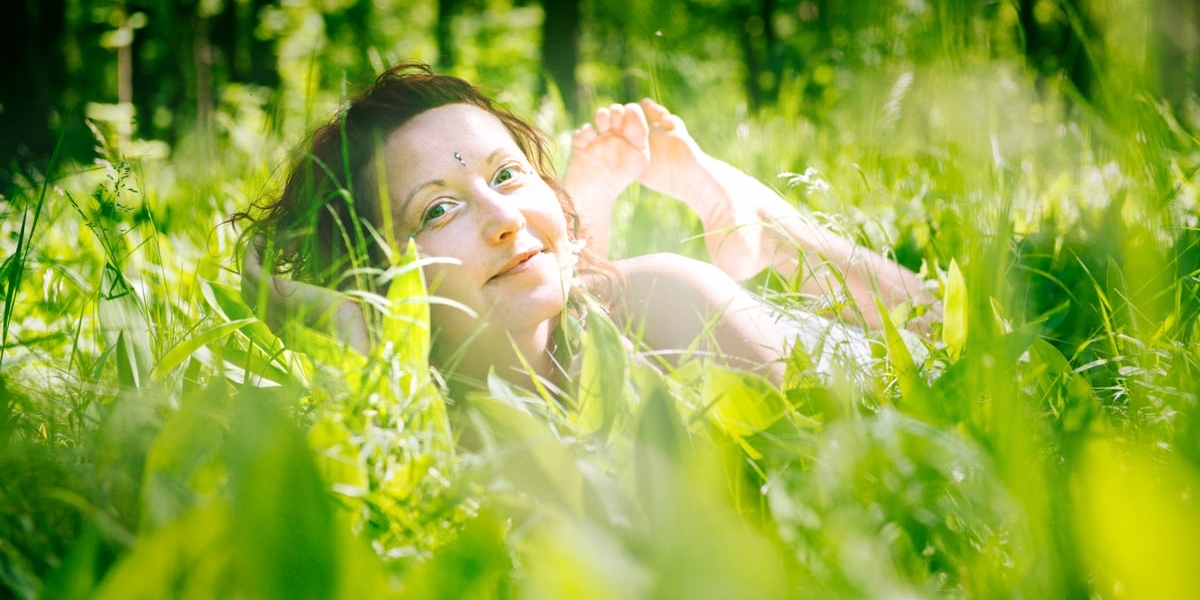 a magical being, a free spirit, a servant of love and truth, a selfmaster in training, an earth priestess and spirit keeper, a joyous soul dedicated to  co-create a New Golden Age of Miracles on earth.
to love…
to support humans in connecting with their precious Self and embodying their highest potential…
life in all its colors…
dancing, singing, playing, laughing, crying…
the sound of the ocean…
the smell of the forest…
nature, magick, mystic, travels, deep intimacy…
yoga, music, rainbows, owls & raw chocolate ♡
Aloha, I am Agaya, a polish born-berlin based embodiment illuminatrix, passionate yogini, womb shamanka, sound healer, ceremonialist, self-mastery coach, mystic & massage priestess (ayurveda & lomi lomi).
On my own journey I have been studying and practicing ancestral, shamanic and yogic/tanric wisdom for more than 15 years now and have sharing it in courses, workshop, private sessions, ceremonies and on festivals since 2012.
Since a profound womb awakening in 2015 I am following my soul´s calling which is to support women in unveiling and following their deepest passions, power and purpose and in manifesting their highest truth and potential.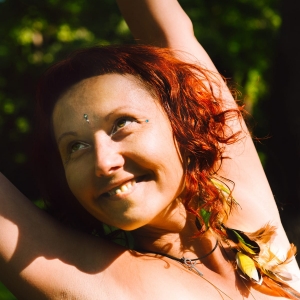 My work is a holistic fusion of a wide spectrum of embodiment practices (yoga, tantra, dance, intuitive movement) with meditation, breathwork, inner alchemy practice, womb wisdom, plantmedicines, sacred rituals and feminine mysteries teachings .
I am absolutely passionate about walking the path of self-mastery (and mystery) and soul embodiment through inner magic and sharing it with others. My purpose is not to teach you, but to ignite the teacher within you. It is also not to heal you, but to ignite the healer within you. It is to remind you that you already are and have everything that you are seeking for  ♡
Believe me dear one, I know how it is to play small. I know how it feels being stucked in confusion, addiction, depression, powerlessness and self doubt. I know how much pain it can cause being totally disconnected from oneself, suppressing and ignoring one´s  truths, needs and desires.
That´s how my life was until I decided to follow my heart unapologetically. Until I decided to take full responsibility for the mess/ disaster I was living in. Until I dared to trust my own wisdom and guidance and to follow my dreams. My life is a living proof that positive transformation is possible if we only are willing to make the steps. I do not believe in wonder, I AM a wonder.
I am here to share with you the best tools and insights I  have learned (and still do!) on my way to self-healing, self empowerment, self love and self mastery and to support you in unveiling and embodying your souvereign, powerfull, passionate and radiant SELF. Because I know YOU ARE A WONDER TOO ♡♡♡
In service of LOVE, POWER & WISDOM ♡
Master´s degree MA in Intercultural Language Science & Literature ( French & German
Hatha & Raja Yoga Teacher Training , 720 hours (Roland Bauer, Raum für Yoga Berlin)
Reiki I
Abhyanga – Ayurvedic Massage Training (Galit Zahiri)
Maria Massage – Ayurvedic Massage Training (Leela Mata)
Pancha Karma Therapy Training in P.V.A. School of Ayurvedic Massage & Panchakarma Therapy (Kannur, India)
Ayurvedic Life Consultant Training (Galit Zahiri)
Lomi Lomi – Massage Training (Uwe Schneider, Lomi Akademie Berlin)
Lomi Lomi – Massage Training (Carolin Freudenberg-Bierwag)
Lomi Lomi – Massage Training (Anja & Jana Goralski)
Shamanic initiation into the Shipibo Curanderismo (3 months in the peruvian rainforest: intense studies and practice of the Shipibo Shamanism, Plantdietas, work with Ayahuasca and lot of other master plant medicines @ Ayahuasca

 Foundation

Sound Healing Training "Healing Instrument – Voice" by Tom Kenyon with Dinah Arosa Marker
Theta Healing® Practitioner DNA BASIC & ADVANCED
since 2012 freelancing yoga teacher, massage therapist, ceremonialist, self-mastery coach, workshop leader
Spaceholder in mooncircles & cacao ceremonies since 2015
Eve: ( Healing Hands – Healing Hearts: Cacao-massage-Session)
Thank you so much for this transforming experience!! Since our session things really shifted, I gained so much clarity about my mission and something very deep got activated. The space you created, your intuitive wisdom put in words, the beautiful icaros and the amazing massage were just a perfect mixture to support me to feel and connect to my true core. Thank you hermana!
Alexandra:
Das Besondere an Agatas Yogaunterricht ist die Energie die sie im Raum verteilt. Es ist, als ob es noch etwas zwischen den Zeilen zu entdecken gibt. Durch ihre liebevolle Art und die sanften aber bestimmten Korrekturen macht sie mich aufmerksam auf spezielle Bereiche in meinem Körper und somit auch in meinem Leben. Nach ihren Yogastunden fühle ich mich vollständiger und habe wieder etwas Neues in mir und um mich herum entdeckt, danke dafür! Die Kakao-Massagesession habe ich als sehr reinigend, erdend, öffnend und belebend empfunden. Ich durfte spüren, was es bedeutet mich mit meiner tiefen Kraft zu verbinden und diese zuzulassen. Agata erinnert uns daran, dass wir unendlich viel Energie haben und diese nutzen können. Schön, dass du da bist!
Iris:
Agata ist ein lebensbejahender Mensch voller Energie und doch in sich ruhend. Wenn sie dich anschaut, spürt man, dass sie ein wenig mehr sieht. Mir persönlich vermittelt das Geborgenheit – nach Hause kommen.
Eine ganz besondere und nachhaltige Erfahrung waren für mich die Kakaozeremonie und die Massagesession. Dieses Erlebnis war einfach zauberhaft – ich konnte mich, mit einer liebevollen Massage von Agata, auf eine innere Reise begeben. Agata vermittelt vollstes Vertrauen und man kann sich fallen lassen.
Wer Agata kennen gelernt hat, der möchte mit ihr ein Stück weit auf "dem Pfad nach Hause" wandeln.
Iris:
Ich möchte mich noch einmal aus tiefstem Herzen bei dir bedanken, für die wundervolle Zeit, die ich bei dir verbringen durfte.
Wieder einmal hast du es geschafft, mich "nach Hause" zu führen – ein zu Hause, welches ich "hier" noch nicht spüren konnte – ich fühlte, wer ich wirklich bin – für einen kurzen Moment. Das gibt mir Kraft und inspiriert mich "weiterzugehen" auf MEINEM Weg.
NAMASTE
Claudia (Lomi Lomi Massage):
Eine Massage von Aga zu bekommen ist jedes Mal ein Gefühl des Nachhausekommens – ich kann aufatmen und mich durch ihre warmen herzlichen Berührungen tief in mich hinein entspannen. Meine Gedanken können sich ordnen über Themen, die mich beschäftigen und auch bedrücken. Ich fühle mich durch Agas Massagen liebevoll unterstützt und gehe mit einem tiefen Seelenfrieden heraus.
Anastasia: (Womb Wisdom Workshop)
Der gesamte Tag bei dir von Anfang bis Ende hat mir sehr gut gefallen. Deine herzliche und positiv aufgeladene Energie sowie die deines Zuhauses erleichterte es mir sehr, mich öffnen und gehen lassen zu können, obwohl es mein erster Workshop dieser Art war und ich nicht wusste, was mich erwarten würde.
Sowohl der theoretische als auch der praktische Teil waren gut vorbereitet und dennoch intuitiv gestaltet bzw. umgesetzt, für mich in einem angenehmen Verhältnis und sehr inspirierend und bestärkend. Ich konnte viele wichtige Impulse für mich als Frau und meine Weiterentwicklung mitnehmen. Vor allem als Vorbereitung auf die Geburt meines Kindes konnte ich viele bereichernde Aspekte bezüglich meiner Weiblichkeit und meiner Gebärmutter für mich mitnehmen.
Ich kann deine Arbeit an alle Frauen weiterempfehlen, die aus den unterschiedlichen Gründen keinen Zugang oder Kontakt zu ihrer Gebärmutter haben und ihre weibliche Intuition und Kraft wieder entdecken möchten bzw. aus einem langen Schlaf wieder erwecken möchten.