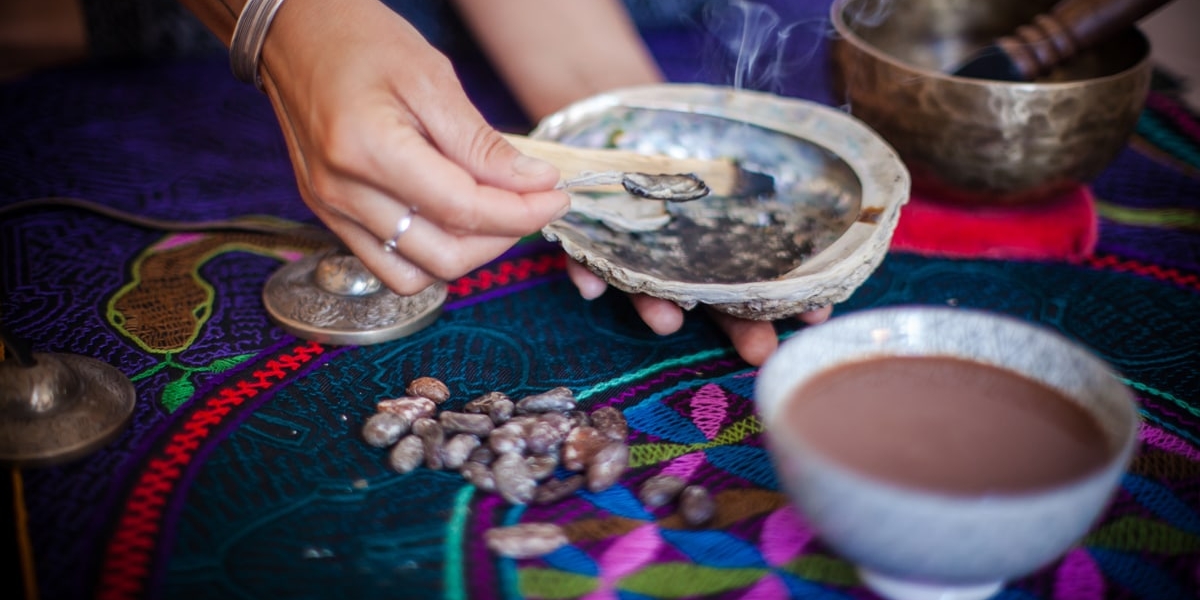 A chocolatey heartopening idea ideal for:
birthday occasions
wedding anniversaries
get-together among friends / family
corporate events
team meetings
festivals
and other community gatherings
What is a cacao ceremony?
A cacao ceremony is a sacred ritual that not only is about drinking delicious raw chocolate, but also about our reconnection with mother earth, the elementals, unity consciousness, light beings and energies, angels and masters, our selves and our fellow men. Ceremonial cacao supports us in remembering, feeling and celebrating this universal connection.
The difference between a ceremony and a common situation is the establishing of a special, sacred multidimensional space in which our consciousness can easily switch and expand  from a common daily linear beta-waves (brain waves) activity in alpha and theta waves, which facilitates a more holistic, expanded perception.
In a gentle and loving way the high frequent Cacao Deva (the spirit behind the form) opens our sacred heart portals and enhances the access to our intuition and dimensions beyond our logical mind.
She (cacao is a feminine spirit) is a messenger of an eternal wisdom of unconditional love and unity of all life in creation. She reminds us of who we truly are: powerful, magical, sovereign  and multidimensional beings. 
The cacao spirit facilitates the re-connection with ourselves and with others and supports us to unveil and embody our highest potential.
In a very subtle, yet powerful and sustainable way cacao can support you:
to release emotional and mental blockades
in connecting with your body, your soul, your higher self, your guides and spirits and the source of all life in creation
to boost your energy level, raise your frequency and improve your mood
in reconnecting with your inner power source and activating it
The ceremony can be created individually according to your needs and desires. In my work with cacao I am referring to different elements like:
gentle yoga & body work
guided meditations
chakra healing
heart – womb healing (only for women)
dance and voice
guided shamanic journeys with following topics: inner child integration/ healing, ancestral healing, forgiveness rituals, self love, meeting spirit guides
mindful connection: a gentle play between connection with self and other / exploring boundaries
sound and silence
Music, sound ( shamanic frame drum, singing bowls, crystal bowls, rattles) and my own voice (medicine songs, icaros, mantra, channeled healing frequencies) are accompanying each ceremony. I am also working with fragrances like Aura Soma, Aqua Florida, etheric oils, smudging herbs and resins ( sage, palo santo, cedar, sweet gras, frankincense and other) to create healing, cleansing, balancing, calming or activating effects.
The space will be energetically cleared and beautifully decorated with flowers, candles and if it is possible with an altar.
Duration:  3 hrs (+ space preparation before and after = around 1hr)
To receive optimal effects it is recommended:
to fast (food) at least 2-3 hours before the ceremony
(at least) 24hrs prior to the ceremony no animal products, no alcohol or other consciousness altering substances, no caffein
to drink a lot of water before and after the ceremony

 

Please consider:It is not recommended to consume raw cacao in ceremonial doses in case of heart conditions or if you are taking antidepressants.

 
444€

 

– up to 7 participants (the cost of the space is not included)
from 8 participants

   

+ 33€/person
home/company visit

 

+

 

taxi rate/ transport